This week's Kitten's Guide looks at those times a young kitten's taste buds crave more than the standard freshly-forked fare. Yes, it's gourmet time at the Guide and today we have two recipes for the discerning nibbler.

First up we have Marinaded Mouse on a Bed of Summer Flowers

So, catch your mouse and lightly torture for ten minutes. Toss in air and marinade in the mouth until bored, then carry inside and deposit on your human's flower-patterned bedspread. If possible (and your human is shortsighted enough) leave for several days to mature, returning at odd times (like the middle of the night) to turn and toss.

Portion note: one medium-sized mouse left on the bed is enough to frighten a family of four.

Here we see Kai selecting his mouse. Note: the mouse is, of course, a toy mouse (or third understudy as he's now known after the shocking accidents on previous takes)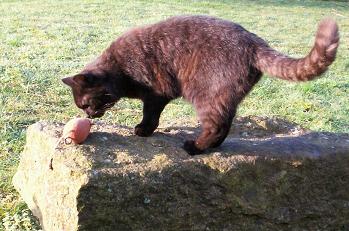 Vol au Vent Dip

First catch your vole. Season with a few strands of grass and marinade in mouth. Lightly toss and pat along the floor. Next, steal your pastry. Here we see Xena eyeing her prize before pouncing.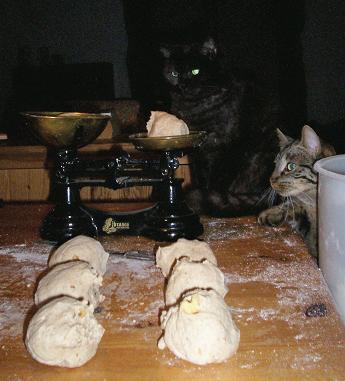 After you've outrun your human, make a paw sized hole in the middle of the pastry and drop the vole in the hole. Hook vole out. Drop vole in. Hook vole out. Drop vole in. Repeat until bored. This is the dip part of the meal and hours of fun.

When your vole has been thoroughly dipped take the vole au vent and place in a warm oven. Here we see Xena testing the shelf height. The shelf should be low enough to allow the chef to walk in and high enough to deter an inquisitive Kai.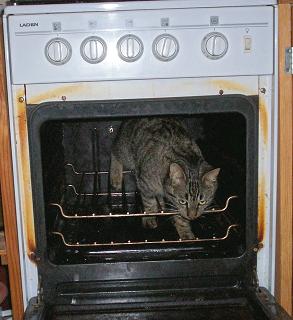 Leave for as long as possible then serve with a freshly squeezed spider.