This week's Kitten's Guide looks at the car. First, it's important to realise that there are two types of car. One is evil and patrols the grey paths at frightening speeds looking for little kittens to gobble up. And the other is our friend. It does useful things like hunt for food tins and take the dog to the vet (and far away woody places where our humans try their best to lose the creature - they even throw sticks at it - but, as we all know, dogs have low cunning, big noses that they shove in all manner of inappropriate places, and are notoriously difficult to shake off).

Here we see Xena checking sufficient room has been left in the back of the car for large boxes of stray cat tins. Very important: never allow your human to leave the house with a full car. Room must always be left for opportunist shopping.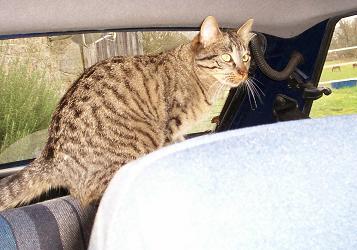 And the car must be regularly maintained. This means inspecting all the important instruments. Here we see Kai checking the instrument panel - supermarket detector, stray cat tin grab, dog ejector seat lever...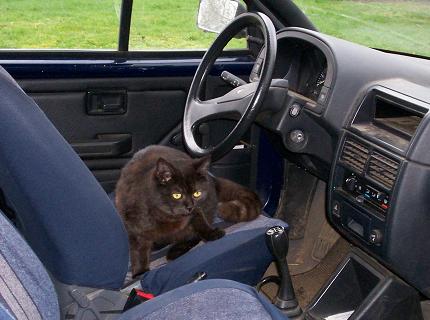 And here we see Kai after examining the dog ejector seat lever a little too closely. Remember, kittens, adjusting dog ejector seat levers is best left for the professionals ... and stunt kittens like Kai.